Aerial in Paradise
Intermediate Mixed Apparatus Aerial Retreat
Silks & Hoop/Lyra
with teachers Chloe Axelrod & Kerri Kresinski
Puerto Escondido, Mexico
February 28-March 6, 2020
Only 3 spots left!
a WEEK in beautiful Mexico in this Aerial in Paradise Retreat with new friends, the beach, delicious, fresh food, and loads of aerial fun!
A retreat for aerialists who wish to progress in their aerial ability through building strength, skills, and fluidity.
There will be 2 classes each day on this Aerial in Paradise Retreat. The morning class is 3 hours and includes a thorough warm up, technical training on aerial hoop and silks. Chloe Marvel Light Axelrod, and Kerri Kresinski, master aerialists, will teach you skills, technique, and tricks to advance your training. The afternoon class will focus on floor work, aerial sequences and stretching. The rest of our time can be spent eating amazing, healthy food, swimming in the warm ocean, reading in hammocks, and breathing the tropical air. There will be time to explore local markets and beaches as well as the local night life.


Advance your Aerial Skills!
This Aerial in Paradise Retreat is for intermediate level aerial students with a minimum of 2 years of training. If you are newer to aerial, sign up for our Circus Fit Intensive Retreat, Circus For Everyone Retreat, or our Beg/Int Aerial Silks Retreat.
Stay for 2 weeks and make an act!
Aerial in Paradise runs back to back with our Act Creation Retreat which ends with a public performance. Advance your skills and create your act!!
---
Sample of daily schedule
(choose as many or few classes/activities as you like)
8-9:30am Coffee, Tea and Breakfast
9:30-12:30pm Aerial Skills and Technique
1pm Lunch
2-4:30pm Pool-time, relaxing
4:30-6pm Sequences, floor work, and more aerial!
6-7pm Beach Play and Sunset
7pm Dinner
8-10pm Evening Activities
We will take you to our favorite beaches for swimming, surfing, snorkeling, and releasing baby turtles into the sea. Also we have evening adventures to a phosphorescence lagoon and local night market. There are bars and discos for you night owls.


---
Bring your partner, parents, or best buddy!
On this Aerial in Paradise Retreat, we have something for everyone. Aerial nerds can indulge in all of your training desires while friends and family can enjoy the retreat environment, delicious, healthy food, surfing, swimming, relaxing, and get into their bodies. Ask us about significant other rates.
---


Classes include:
Aerial Hoop & Silks Skills
Flexibility
Floor Work
Conditioning
Injury Prevention
Musicality & Play
Nutrition
---
About your Teachers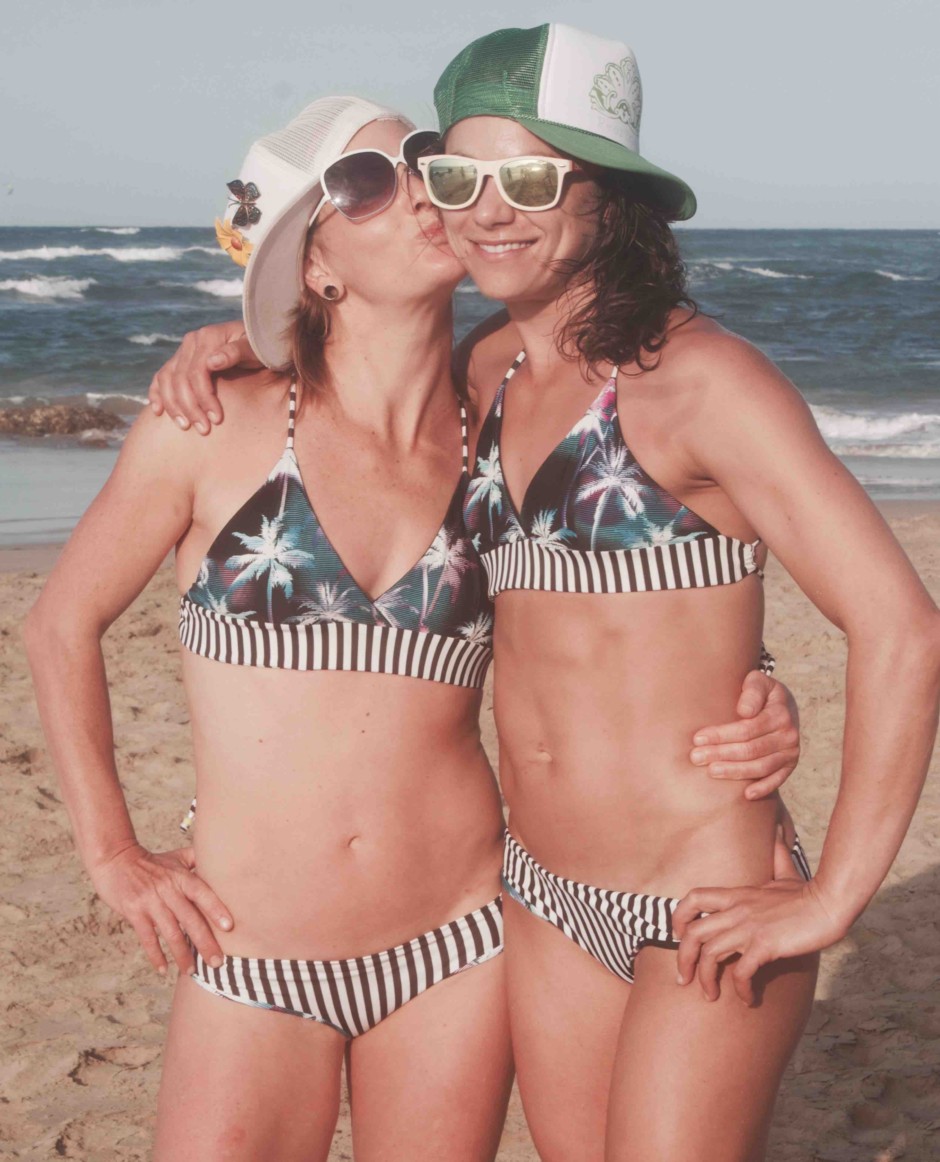 Kerri and Chloe have been teaching, training, and performing together as a duo for over 10 years. As time passes, their friendship has deepened, their working relationship has become more intuitive, and their collective wisdom of the body has expanded exponentially. They are truly a duo with infinite possibilities. One of the many things that makes this duo so special is that they love teaching, and find delight in watching their students grow and learn. In teaching, they stress the importance of good form, efficient training, refinement & artistry, and most important, FUN. You have to find the love for the training. No holding back in the circus! You can read more about Kerri and Chloe here. Click here to see videos of their performances (duo and solos).

Chloe Marvel Light Axelrod is a powerhouse performance artist and teacher whose talents have carried her around the world. She has performed for a variety of acclaimed companies in world-class productions. Chloe is known for her dynamic performance style, full of high-level acrobatic and aerial skills combined with effortless grace and incredible form.
Chloe has been teaching circus since 2005 and trained with masters of acrobatics, contortion, and flying trapeze. She has years of experience and passion under her belt.
Chloe's specialty is aerial hoop on which she has a solo act and a doubles act. With these acts, she synthesizes years of training, a love for spinning, strong, fierce passion for movement into a whirlwind of virtuosic expertise. Chloe teaches in the professional training program at the San Francisco Circus Center as well as recreational classes. Through teaching and performing she shares the magic of circus all over the world. Check out Chloe's website as well and her hoop videos here.
Kerri Kresinski has been performing and teaching acrobatics, yoga, dance, and aerial arts for over 15 years throughout the world. Her life's work, as an artist and a leader, has been to develop and deepen her study of the body—physically, emotionally and spiritually. She has learned that anything is possible with patience, discipline and a positive attitude. Kerri expresses her passion and spirit through movement, and feels that the body is the gateway to the higher powers for healing, transformation and expression. She is truly a unique performer, engaging, thrilling, and moving audiences with her skills, style, and heart. She is a co-founder of Sweet Can Circus and the founder/director of Sweet Retreats. She loves to help people reach beyond their perceived limits and strive for new heights. "Believe in yourself, and live BIG." Read more about Kerri here.Click here for her youtube page where you can find her performance videos and aerial instructional videos!
Early Bird Rates for Aerial in Paradise
Rates are listed in USD.
$500 Deposit is required to secure your spot.
Stay for 2 weeks! Sign up for both Aerial in Paradise and Act Creation and get $200 off your total tuition.
---
| | | |
| --- | --- | --- |
| Room | Early Bird Price until October 1, 2019 | Full Price |
| Double Occupancy – budget cabana | $1700 | $2000 |
| Dorm (2-4 people) | $1800 | $2100 |
| Single Occupancy w shared bathroom (Franco 3) | $1900 | $2200 |
| Single Occupancy w private bathroom | $2100 | $2400 |
---
Rates refer to cost of one person's tuition. Couples must sign up together.
Click here for descriptions of each room.
Prices for Aerial in Paradise include:
Ground transportation to/from the Puerto Escondido Airport (PXM) to our accommodations**
Accommodations for the duration of the retreat
Daily meals – breakfast, lunch, dinner & treats!
Travel between Puerto Escondido Airport and our accommodations*
2 Daily classes
2 Photo shoots – Beach and Aerial
Evening Activities
24 hour use of Swimming Pool, wi-fi, Aerial Gym, and Community Space
Day trip to a local beach, turtle release, dinner out, and night market!
Impromptu dance parties, pool parties, sunset cocktails (21+), and hanging out with new friends.
Homemade chocolates, popsicles, and other treats
---
Links for more information:
Questions?
Email us at SweetRetreatsDR@gmail.com.
Sweet Retreats has encouraged me to be a better version of myself both physically in the circus arts and also personally in my interactions with friends and the community. The instructors at Sweet Retreats are not only world class performers, they are also some of the most caring, beautiful, and authentic individuals. I'm so fortunate to have discovered this paradise of athletic endeavors, delicious food, unending laughter, and all within the gorgeous surrounding.

– LIZ MAROTTE, OAKLAND, CA

---
*Food service begins with a snack and dinner on February 28, and ends with breakfast on March 6. All meals, snacks, and treats are provided. The food is amazing!
** Your taxi to/from the PXM airport is included if you arrive/depart on designated days. Arrive on February 28 and depart on March 6, 2020. Click here for info about getting to Puerto Escondido.
---
Cancellation Policy:
No Refunds. No exceptions.
Cancel more than 60 days before 1st day of retreat: 60% of your payment can transfer toward a future Sweet Retreat.
Cancel 30-60 days before the 1st day of retreat: 40% of your payment can transfer toward a future Sweet Retreat.
Cancel up to 30 days before the 1st day of the retreat: 20% of your payment can transfer toward a future Sweet Retreat.
Deposits are non-refundable and non-transferrable.