Family Retreats!
Bring your whole family.
We have something for everyone.


Circus Fitness, Yoga, Swimming, Healthy Food, FUN!
Enjoy a family vacation where everyone's needs are met.
On our Family Retreats, parents get the relaxation, exercise, and self care they need while the kids have play time, swimming, circus and activities…
…and the food is amazing!
Come visit us in the 'hidden port' of Puerto Escondido, Mexico.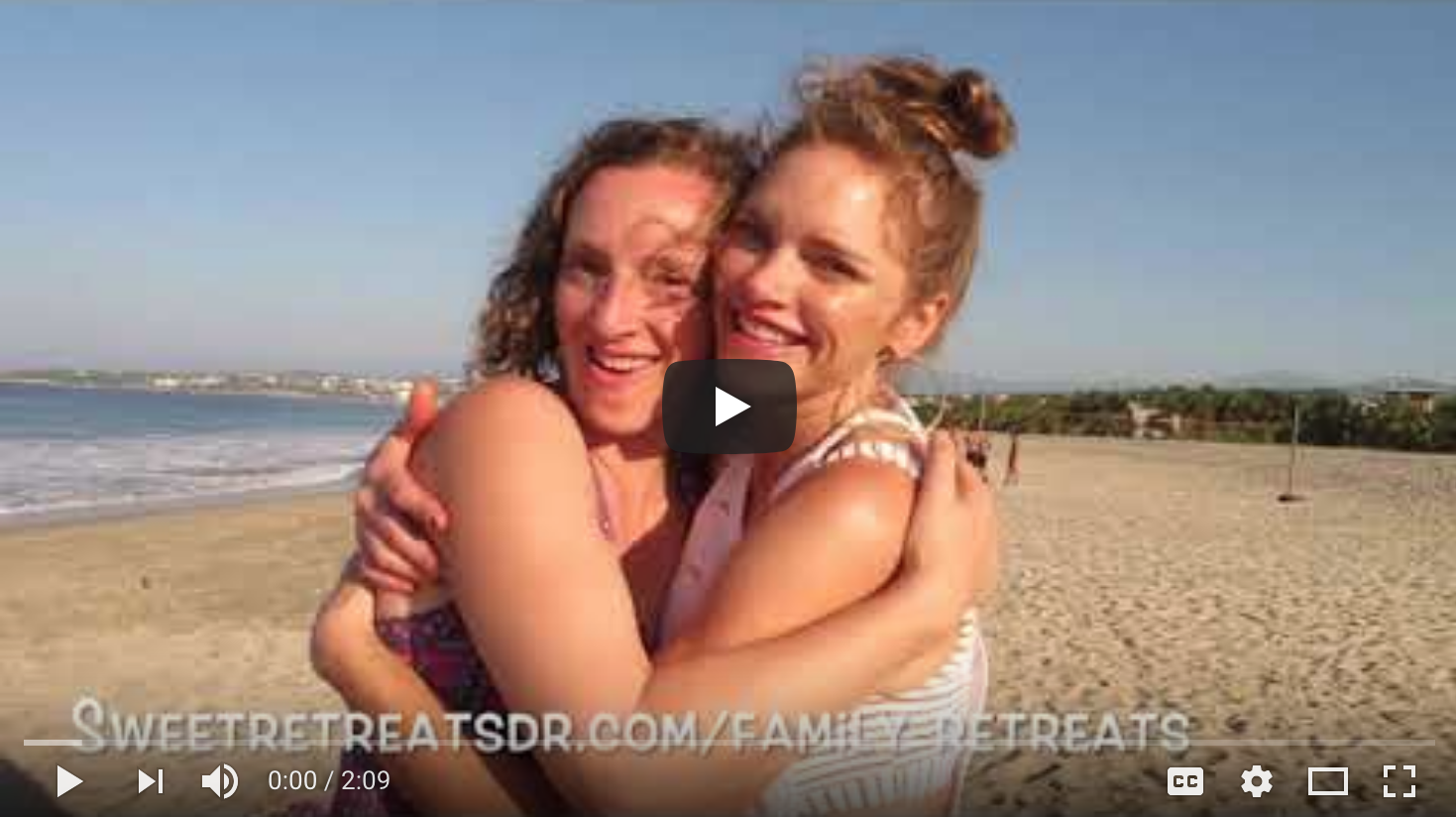 ---
Choose your Dates for your Family Retreat
Just let us know when you want to come, and we will do our best to accommodate you!
Summer Family Retreat
July 26-August 2, 2019
Thanksgiving Family Retreat




November 23-30, 2019



Come for the Holidays!
December 27, 2019-January 3, 2020
Sign up now!

---
Customize your retreat to fit your whole family's needs.
Our family retreats include accommodations, farm to table meals, yoga, fitness and circus classes, tour of our organic garden, and offer many options to make the vacation that fulfills your desires.  You will feel like you are visiting family & friends who care about you (because we do).  Bring your family and friends to paradise!
---
Here are a few reasons why you might want to choose one of our family retreats:
Experience a relaxing and energizing vacation where everyone's needs are met while gaining  healthy habits.  Go home feeling better than when you came.

Eat better than you do at home!  Don't waste your time searching for good food and waiting for hours at a restaurant.  We serve the freshest and best quality farm to table meals to keep you feeling great.   

Healthy, home made treats, including popsicles, chocolates, smoothies, and muffins!

Take the stress out of your vacation, unplug, and let us be your guides.  We will take you to our favorite local spots and take care of the logistics so you can spend more time enjoying yourselves.

Feel great in your body!  We provide one Circus Fit movement class each day for the parents while the kids are busy with activities.    Spend the rest of the days exploring the beach, relaxing in a hammock, swimming in the pool, surfing, and spending quality time together.

Rest assured knowing your children have a safe place to play.  Kids' activities include circus skills (juggling, stilts, aerial silks, acrobatics, obstacle courses, hula hoops), crafts, baking cookies, swimming, games and movies in our home cinema.

We truly love having you here. It is our pleasure to host you and entertain your kids.

2 Date Nights!!!  Just saying…
---
…and more videos…
---
Delicious and Healthy Meals
Breakfast, lunch, and 4 dinners are included in our Family Retreats.  The food will be grounding, nourishing and amazing!  Our meal master, "Skillet," presents healthy and delicious meals made with fresh, local ingredients.  You will be blown away by the food!  Meals include fresh fruits, vegetables, beans, rice, eggs, meat or fish, and healthy treats are available throughout the day.   We can accommodate most special dietary needs including vegetarians, vegans, food allergies, and picky kids!
---
Our Family Retreats are held at the Monkey House community complex a short walk from the beach.  In addition to clean and safe accommodations, there is a swimming pool, an ocean view palapa practice space, the Monkey House Gym for aerial & acrobatics t
raining, lots of grass and hammocks for relaxing between classes, and our Monkey House Kitchen and hang out space.  It is awesome!  Click here for details about the rooms.
Just outside our complex there are cafes, shops, local markets and the beach.  The neighborhood, called La Punta, is small, quiet, and full of friendly people.  Just a mile down the beach is Playa Zicatela where you can find restaurants, open markets, nightlife, and plenty of surf shops to buy Mexican trinkets, beach garb, and anything else you might need.  Puerto Escondido is a safe and welcoming town.  For information about weather in Puerto Escondido, click here.
For information about booking your travel to Puerto Escondido, click here.

---
"Wow. Sweet Retreats rocked my world!  I feel so much more aware of my body.  I'm not a circus professional, but I really appreciated Kerri's approach to fitness and yoga. Her "circus fit" cardio and vinyasa-styled asana practice really brought me back to earth, away from the passive, achey body that doesn't reflect who I am.  My family attended the Family Circus Yoga Retreat, and there was something for all of us: circus tumbling and climbing for the kids, circus fit cardio for my wife and vinyasa yoga and hammock time for me.  The proximity to beach fun, excellent food and cocktails at Casa Chango, fun shopping, and the safety and relaxing environment of the grounds left us feeling fit, relaxed, and well fed.  The staff made a truly a magical experience.  From our first "hola!" to our final "adios amigos!" Sweet Retreats was at once personal, authentic, fun, and restoring.  Great Job!" – Andy Tannehill, Placerville, CA

---
Prices for our Family Retreats Package 
Children under 3 years old are free***.  Child rates are for ages 3-12.  Prices are listed in USD.
Sign up early, and ask about our Early Bird Discounts!
Non-Holiday Rates
1 parent & 1 child — $2400
1 parent & 2 children  –$2800
2 parents & 1 child — $3800
2 parents & 2 children — $4200
2 parents & 3 children — $4600

Holiday Rates
1 parent & 1 child — $3000
1 parent & 2 children  –$3500
2 parents & 1 child — $4500
2 parents & 2 children — $4900
2 parents & 3 children — $5400

Sign up early to have your choice of accommodations.   
Ask us about our early bird discounts.
Click here for descriptions of each room/house.
---
Price of our Family Retreats include:
Ground transportation to/from the Puerto Escondido Airport (PXM) to our accommodations**

Accommodations for 7 nights

Daily Breakfast and Lunch

4 Dinners in our Casa Chango kitchen

2 Date Nights! – We entertain and feed your kids dinner 2 evenings 5:30-9:30pm.****

1 Adult morning group class per day —  Circus Fit mixed with stretching and yoga by request.  Children 15 and over are welcome to join.   You can add-on circus, aerial skills and acrobatics classes.  See below. ***

1 afternoon Family Circus Workshop with parents and kids.  Bring home some new family tricks.

Movie night!  Watch a movie in our private movie theater!

Use of Swimming Pool, wi-fi, Hammocks, and Fitness/Yoga/Circus Gym and equipment, boogie boards, snorkels and flippers.

Our recommendations for the best beaches, surf spots, restaurants, nature excursions and markets.

101 of how to get around in Puerto Escondido

Tour of our organic garden w Farmer Stu
Add ons – the following services can be added on for an extra charge.
Extra days/nights to your stay —  prices prorated for additional day

Extra group or private yoga, fitness, dance, or aerial/acrobatics classes   $80/hour for Private lesson.  

Swimming lessons for children and adults   

Surf lessons-   private and group rates available

Spanish lessons  

Massage   

Nutritional Counseling   

Lifestyle Counseling 

Personal Training / Home Exercise Routine Planning 

Evening trip to Phosphorescence Lagoon   $20/person

Ask about available nature excursions.
---
Deals and Discounts
2 Families signing up together to share a week get 10% discount.

3 Families signing up together to share a week get 15% discount.

Book your retreat between June 1-October 1 for a 10% discount.

If you don't have kids, check out our Personal Retreats here.
---
Email SweetRetreatsdr@gmail.com for more information.

---
Upcoming Family Retreats
Summer Family Retreat – 
July 26-August 2, 2019
Thanksgiving Family Retreat-  
November 23-30, 2019
Come for the Holidays! –  December 27, 2019-January 3, 2020
---
How to Register for a Family Retreat
Pay your tuition.  Once you fill out the registration form, you will receive an email with payment information.  You must pay a $500 deposit to secure your spot.  Full payment is due one month before the retreat begins.

Once we confirm your dates, you can book your travel. Click here for tips for booking your flight.   Fill out this itinerary form in order to secure your ground transportation.
Get excited!  This is going to be amazing!
We will do our best to accommodate all of your needs.  Feel free to email us at SweetRetreatsDR@gmail.com with any questions.
---
*You must pay for any meals eaten out on your own.   Alcoholic beverages are not included.
**Transportation from/to the PXM airport to our accommodations is included if you send us your itineraries within 1 week of your arrival.
***Parents with children under 4 years old are responsible for sharing child care during adult classes.  Parents can alternate who takes the morning class daily or add on an extra daily class for $50.  You can also bring a nanny.
****Date night applies to children who are able to be apart from their parents.  We will feed them dinner, give them activities and watch a movie.  Parents must come back in time to put their children to bed.
---
Cancellation Policy:
No Refunds.  No exceptions.
Cancel more than 60 days before 1st day of retreat:  60% of your payment can transfer toward a future Sweet Retreat.
Cancel  30-60 days before the 1st day of retreat:  40% of your payment can transfer toward a future Sweet Retreat.
Cancel up to 30 days before the 1st day of the retreat:  20% of your payment can transfer toward a future Sweet Retreat.
Deposits are non-refundable and non-transferrable.