Sweet Retreats Mexico
Accommodation options

Our Mexico accommodations are in a beautiful, safe community complex in Puerto Escondido.  All rooms are very simple and clean and have their own full bathroom, ceiling fan, and veranda.   There is no air conditioning.  This is not a luxury hotel, but the rooms are clean, and the outdoor areas are gorgeous with sunset views.  We spend most of our time outdoors and in the community spaces training, eating, swimming, and hanging out.  Our group meals are served in our Monkey House Kitchen and Community Hang Out Space just a few steps away from your room.  All classes are held in the Monkey House Gym just above the Community Space.
Cabanas  
We have 6 cabanas, all with private bathroom, veranda, and fan.

Cabana 1 & 5 –  Single Occupancy – one king sized bed
Cabana 2 & 4  – Double Occupancy – 2 double beds
Cabana 3  –  Triple occupancy –  3 double beds
Cabana 6  –  Single Occupancy – The only 2nd floor Cabana has one double bed.  The bonus of this room is your amazing view of the ocean and sunset.  The bathroom is smaller and simpler than the other cabanas, and there is no hot water in the shower (but you really don't need it here).

---
Eclipse 1 & 2 –  Eclipse is a 2 bedroom/1 bathroom apartment with a full, private kitchen and veranda.  The 2 bedrooms (each are single occupancy) are joined by a shared full bathroom.  Each room has a double bed and ceiling fan.

---
Casa Franco  –  This is a huge, spacious house with 3.5 bedrooms and 3 bathrooms.  Lower level has a full kitchen, living room and double/triple occupancy bedroom.  Upper level has a large ocean view veranda with a couch, hammock, and 3 bedrooms with 2 bathrooms.  The view from the veranda is spectacular!

Franco 1 – Lower level room with one double bed and one single bed (double occupancy) and large shared bathroom.
Franco 2 – Upper level room with one double bed (single occ or couple) and private bathroom.
Franco 3 – Upper level room with one king sized bed (single occ or couple) and shared bathroom (shared with Franco 4).  You have to walk through Franco 4 to get into your shared bathroom.  The person in Franco 4 agrees to this.
Franco 4 – Very small, simple room with one single bed and shared bathroom (shared with Franco 3).  Considered double occupancy because the person in Franco 3 must enter your room on the way to the bathroom.  The perk is that just outside your room is a beautiful view of the ocean.  This room is for the budget retreater.

---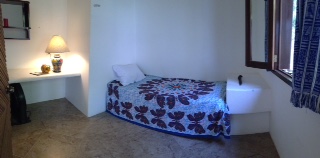 Guest Room  –  Our guest bedroom (when available) is a great option for the budget traveler.  The room is very small with a double bed, window, shelves, and a fan.  There is a shared bathroom outside the room with an outdoor shower.  You will be living in our home, and welcome to make yourself comfortable.  This is the best way to get to know us!
---
Casa Chango has it all!  Feel at home at our Monkey House Mexico accommodations!

For more information about weather in Puerto Escondido, click here.
For more information about Casa Chango/Monkey House Mexico, click here.